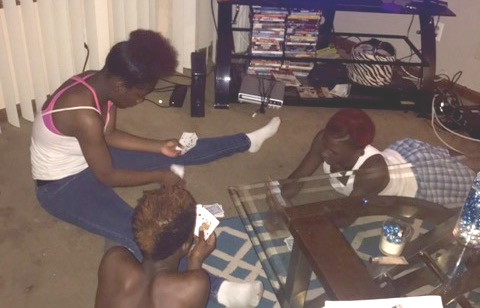 Quiet game of cards before working on homework for the night
Bianca's Story
My children and I were evicted from our home and had nowhere to go. I had no job at the time and no financial help from anyone. I was told about the [housing] program from a close friend and it only took three weeks and I was placed in a clean and spacious [housing] unit.
The program definitely helped by having the unit furnished because I had no beds for us to lay on, nor a couch or kitchen table to sit at, and I'm glad because now me and my children can sit and eat as a family. They [the staff] were wonderful with helping with household supplies, clothing for my children for school, gas vouchers, etc. Due to the wonderful help I was able to send my children to school with everything they needed and now I am moved up on the waiting list to be placed in [subsidized] housing!
I also would like to thank my caseworker, Tiffany, for her generosity. She has made my time here in Shelter Care Ministries absolutely wonderful. She takes her time with me and gives me great advice, and hope that I will again be on my feet; if not greater than before. She has done nothing but help and welcome me and my children from day one.
I would like to thank all the workers in this program and also all who donate because if it wasn't for the program and/or donations, I couldn't imagine where my children or myself would be.
Thanks you for everything.
Bianca and family